How To Get a Library Card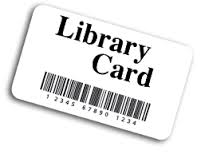 To check out books and movies, as well as use other services in the library, you will need a library card.
Library cards are free. If you lose your card and need a replacement, the cost is $1.00.
To obtain a card, stop in the library and bring your ID with you to make the process go faster.
If you live in the Sloan Public Library service area, the card will allow you access to all of our digital content as well as in-library materials. If you do not live in the Sloan Public Library service area, you can still get a card, and use it to check physical items out of the library, but you will be unable to access our digital content such as ebooks and databases.
Must be at least 8 years old to obtain a library card. Children under the age of 14 must be accompanied by an adult when child is issued a new card.
Borrowing Limits
Books are checked out for 3 weeks. Overdue fines are .05 per day per book.
DVDs are checked out for 1 week. Overdue fines for DVDs are $1.00 per day up to 5 days. DVDs are limited to 2 checked out at a time per HOUSEHOLD.
If your fines are over $5.00, you will be required to pay down or pay off your fines before you can check additional books or DVDs out.
Renewing Items
Items can be renewed via phone, email or our Online Patron Access Catalog from home. If others are waiting to borrow the item, renewals will not be allowed.