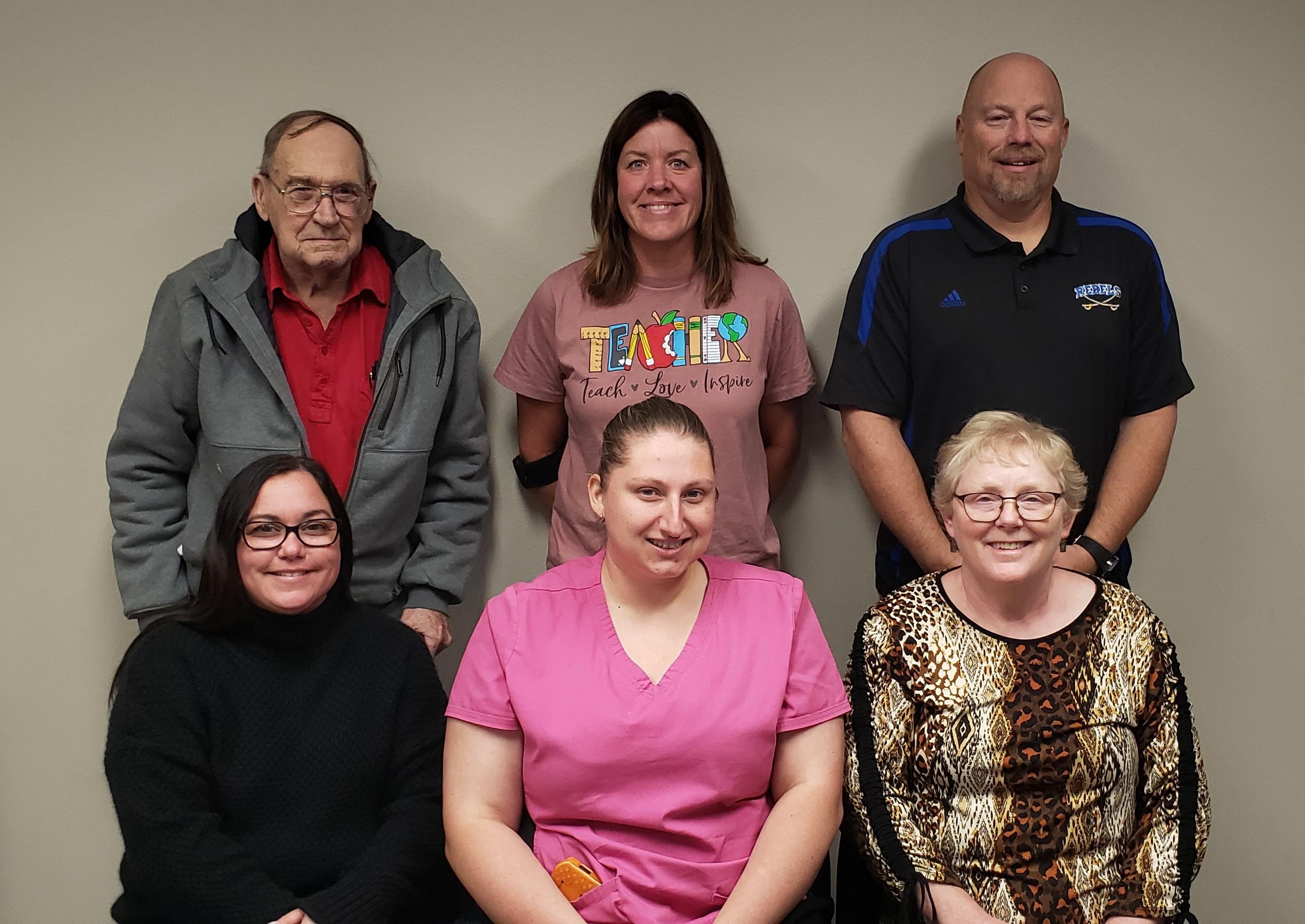 The Board of Trustees of the Sloan Public Library consists of seven members, appointed to the board by the City of Sloan. All members to the board will be for six years, except to fill vacancies.
Current members of the Board of Trustees are:
L-r front: Markee Burton; Alissa Reeves; Lisa Koenig;
L-r back: Darrell Iverson, President; Kristy East, Secretary; Jay Lutt
Not pictured: Karel Birnie; Dixie Iverson, Treasurer
Sloan Public Library
Board of Trustees
Meeting Agenda
Monday, March 20, 2023 @ 6:30 PM
Library Meeting Room
Director Victoria Eliason; Librarian Teresa Ernst; Treasurer Dixie Iverson; Darrell Iverson, President; Kristy East, Secretary; Alissa Reeves; Lisa Koenig; Markie Burton, Karel Birnie, and Joanna Low.
Call to Order
Minutes Approval from 2-27-23
Agenda Approval
February Bills Approval
Treasurer's Report
Public Comment
Librarian's Report:
Door Count: 357
Adult Books: 237
Children/Teen Books: 83
Magazines: 04
DVDs & Blu-Rays: 37
Audios: 00
Bridges:
Ebooks: 88
Audio Books: 162
E-magazines 02
Who-Fi Usage: 219
Unfinished Business:
*Copier/Fax Issues
-Google workspace and new domain name purchased. (sloanpubliclibrary.com)
*Soffit Repairs-Building Maintenance
*Pizza, Puzzle, and Pub Fundraiser
-April 14 and 15
-Registration opens March 17
-Will need workers for Friday and Saturday night.
*Recruitment of 2 more board members to replace Kristy East and Markie Burton
New Business:
*Welcome to new board member Joanna Low.
*Updating of Gaming System
-Nintendo Switch Proposal
*Good Friday-April 6, 2023
*Children's Book Council-Local Coordinator Application
*Upcoming Programs:
-Easter Craft Night—March 27 at 5 PM
-Cost $10
-Remembering the Apron Program—April 21 at 10 AM
-Joanna Konczcal Musical Dance Party-April 22 10 AM
-Pizza, Puzzle, and Pub--April 14 and 15 at 7 PM
Board Education
Other Business
Next Meeting: Monday, April 17, 2023 at 6:30 PM
Adjourn
Open Meeting—Public Invited to Attend